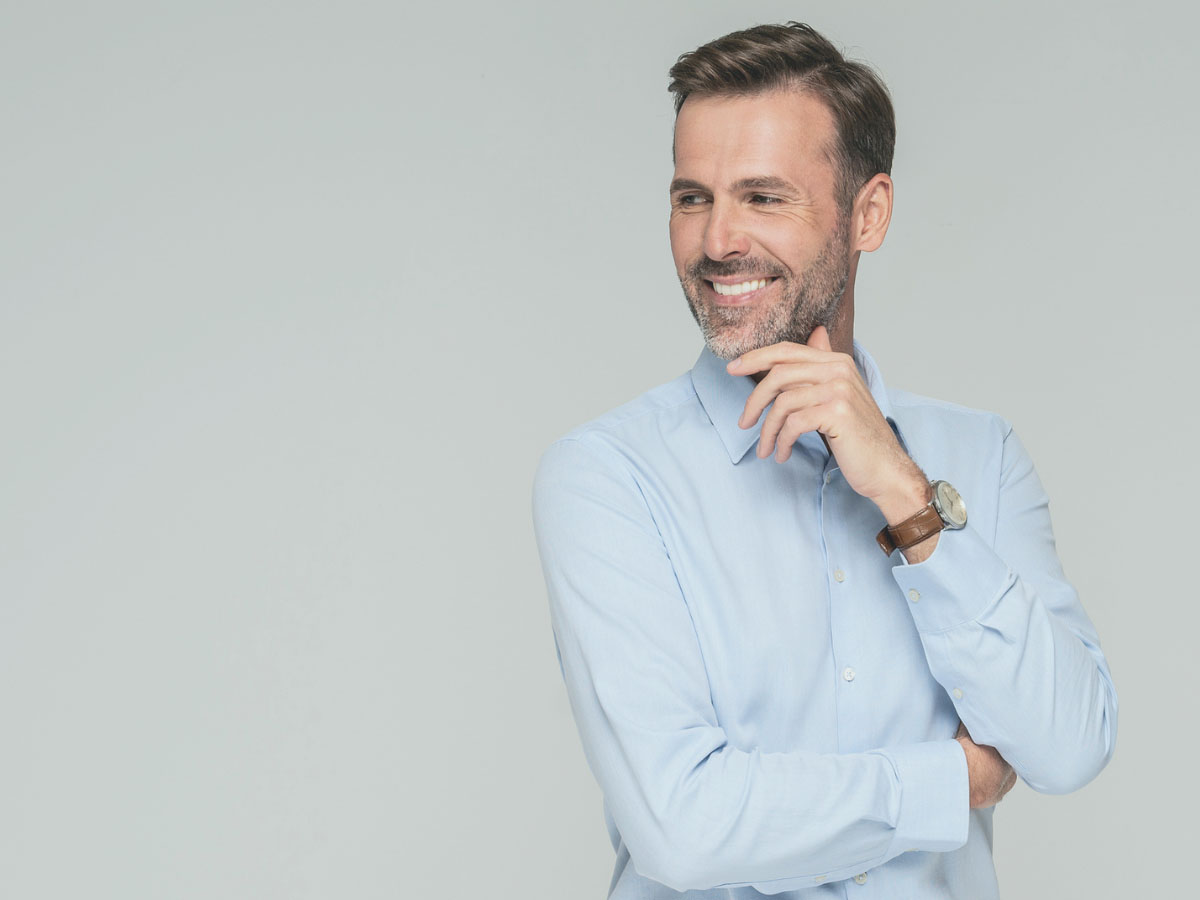 Anti-Aging Treatments for Men
At DLK, we understand the modern man's aspiration to maintain a youthful and refreshed appearance in a fast-paced, visual world. We cater to these needs by offering a range of non-surgical anti-aging treatments tailored for men.
How the Anti-Aging for Men Program Works:
Every patient is unique, so DLK offers customized options that will target each patient's needs with the following steps:
Step 1: Comprehensive Medical Assessment
A personal assessment of each patient's skin condition and signs of aging through a detailed skin and health history will be performed, along with a review of previous treatments and a skin examination.
Step 2: Individualized Treatment Program
Based on her expert assessment, Dr. Lisa Kellett will design an individualized anti-aging treatment for every male patient seeking DLK on Avenue's rejuvenating treatments.
Why Choose the Anti-Aging for Men Experts at DLK on Avenue?
Renowned aesthetic dermatologists and anti-aging treatment experts Dr. Lisa Kellett and Dr. Sonya Abdulla lead DLK on Avenue's talented team. They aim to provide safe and effective anti-aging treatments to men in a comfortable medical setting.
Dr. Kellett is set apart by her unique approach to cosmetic enhancement and skin care by developing and supervising individualized, specialized treatment regimens for each patient in a way that puts even the most anxious patients at ease. These customized treatments combine the best of dermatological medicine with the latest technological advances to reduce signs of aging in men. Learn More
Dr. Abdulla is a leader in the industry of Aesthetic Medicine and is recognized for the natural results she achieves for her patients by developing holistic yet customized treatment plans to address specific concerns like signs of aging. She aims to make her male patients look and feel their best in a comfortable clinic. Learn More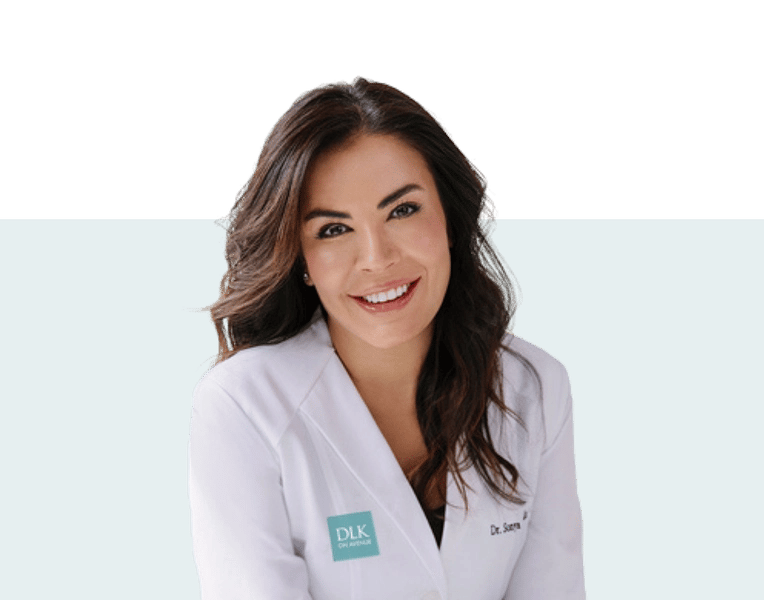 What Causes Skin To Age in Men?
Skin aging in men is commonly due to factors such as:
Environmental causes, like pollution.

Lifestyle factors, such as diet, exercise, nicotine consumption, or drinking alcohol often.

Prolonged sun exposure.

Genetics.

Stress.

Lack of sleep.

Repeated facial movements that cause wrinkles to settle in place.

A lack of hydration to the skin and body.
What Happens To A Men's Skin As They Age?
As men age, they will begin to notice fine lines and wrinkles begin to form in areas on the face, such as the forehead, around the eyes, between the eyebrows, and around the mouth. Men may also experience sagging in the skin, especially around the cheeks and above the eyes.
What Can Men's Anti-Aging Procedures Treat?
The anti-aging procedures for men offered by DLK on Avenue can treat:
Dull complexion.

Fine lines and wrinkles.

Skin elasticity.

Lost volume.

Sagging in the face.

Age spots.

Scarring.
What Can Men's Anti-Aging Procedures Treat?
DLK on Avenue offers various anti-aging treatments for men, including fillers, PRP, and submental fat treatment.


Injectable Fillers
Injectable fillers can help restore volume, smooth out the skin, and reduce fine lines.
Injectables for Fine Lines and Wrinkle
Injectables are a simple, non-surgical, physician-administered treatment used to temporarily smooth frown lines and wrinkles between the brows, on the forehead, around the eyes and mouth, and elsewhere.
PRP (Platelet-Rich Plasma) Treatment
DLK's PRP treatment involves the collection of your blood, which is then processed to separate the plasma and platelet portions, which are then injected back into your skin to stimulate new collagen production or to stimulate hair growth.
Submental Fat Treatment
DLK's Submental Fat Treatment is a non-surgical, non-invasive procedure that helps to improve the contour and appearance of submental fat, or the double chin
What are the Primary Concerns for Men Regarding Aging Skin?
The most common concerns for men regarding aging skin include wrinkles, age spots, and sagging due to a loss of collagen over time.
Are Anti-Aging Treatments for Men Safe?
Yes, the anti-aging treatments offered for men by DLK on Avenue boast very few risks, are minimally invasive, and involve very little downtime, especially because an esteemed team of experts performs them.
What Should I Expect During a Men's Anti-Aging Consultation?
During your consultation, expect to have your skin assessed, be ready to discuss your health history and past treatments you have received, come prepared with a list of questions, and even bring reference photos if you have specific aesthetic goals in mind.
Can Men Combine Different Anti-Aging Treatments?
Yes, if you wish to maximize your youthful glow, you can combine different treatments, such as injectable fillers for the upper half of the face, with a submental fat treatment to address concerns in the lower half of the face.
What is the Recovery Time for Anti-Aging Procedures?
There is minimal downtime associated with DLK on Avenue's anti-aging procedures for men, but we do recommend that you give yourself at least 5 days to rest with your head elevated to promote blood flow to the face, stay out of the sun, avoid strenuous exercise, and use gentle skin care products.
Is Sun Protection Important for Men's Anti-Aging?
Yes, sun protection is important for preventing premature aging and maintaining a youthful appearance for longer. Using SPF, especially after your anti-aging treatment, can make a difference and prevent you from looking older than you are.
Can Anti-Aging Treatments Address Hair Loss in Men?
PRP can be used as a treatment for hair loss, so if you would like to pursue a hair loss treatment at DLK on Avenue, discuss your concerns and ask questions during your consultation. We are here to help you look and feel your best, from your skin to your hair.
Can Men with Allergic Reactions or Sensitivities Undergo Anti-Aging Treatments?
During your consultation, you should disclose all allergies and sensitivities you have so we can create a customized treatment plan that will not cause you any adverse reactions. If your concerns are severe, it is best to consider PRP therapy, as it uses no ingredients other than your own blood.
Can Anti-Aging Treatments Be Customized for Men with Unique Skin Concerns
Yes, at DLK on Avenue, we address all skin concerns, no matter how common or rare, and do our best to treat them.
Book a Consultation at DLK on Avenue
Contact us directly to find out if our men's anti-aging treatments at DLK on Avenue are right for you. Dr. Kellett will assess your needs and develop a program specifically for you. To schedule your treatment or consultation, please call 416-440-2597.
A personalized DLK Wrinkles, Fine Lines, and Furrows Program might include treatments consisting of a combination of some or all of the following:
DLK's PRP treatment involves the collection of your blood, which is then processed to separate the plasma and platelet portions which are then injected back into your skin to stimulate new collagen production or to stimulate hair growth.
DLK on Avenue
108 Avenue Road
Toronto, Ontario
M5R 2H3
Phone: 416-440-2597
Fax: 416-923-2597
MON: 9:00am - 5:00pm
TUE: 8:30am - 7:00pm
WED: 8:30am - 7:00pm
THU:8:30am - 7:00pm
FRI: 8:30am - 7:00pm
SAT: 9:00am - 5:00pm
SUN: Closed