What is Collagen Induction Therapy with
Microneedling?
DLK's Collagen Induction Therapy (CIT) is an electric Micro-Needling system that rejuvenates the skin by using surgical-grade needles to penetrate the skin up to 150 times per second to induce the production of new, healthy collagen while treating conditions such as fine lines and acne scars.

This treatment's unique delivery of micro-needling therapy is scientifically proven to stimulate fresh collagen production and facilitates the formation of healthy skin without causing excessive damage to the epidermis. The treatment's 6 needle cartridge is carefully designed to perfectly penetrate the epidermis, allowing it to repair itself naturally and safely resulting in smoother, brighter, and healthier looking skin.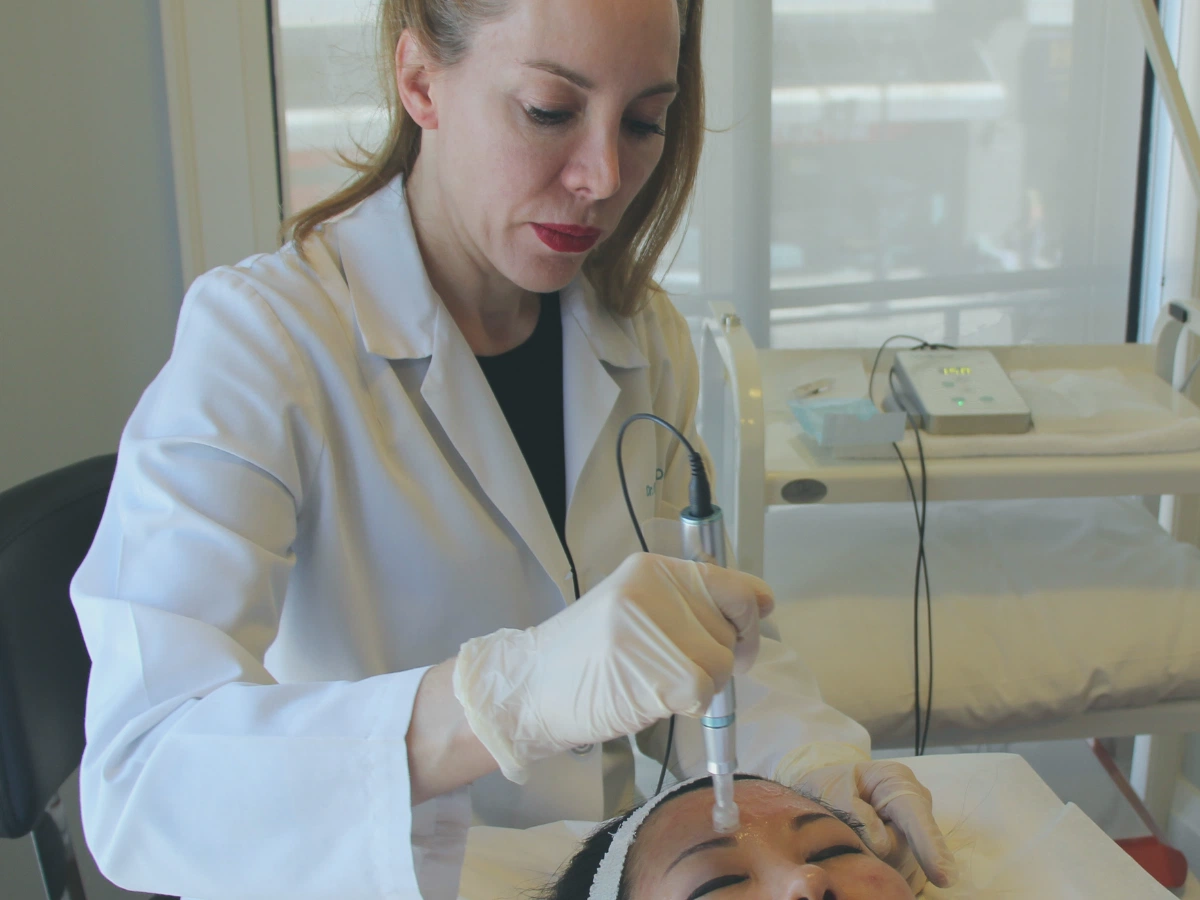 Collagen Induction Therapy at a Glance:
DLK Microneedling Treatment:
DLK's CIT Treatment improves skin tone and texture for conditions such as fine lines and acne scars while tightening the skin and reducing pore size. The treatment combines the most advanced, medically-engineered technology with the most sophisticated medical-grade needles for an effective, customizable, comfortable and safe treatment. During the treatment a hyaluronic acid solution will be applied topically to the treatment area allowing the needles to move smoothly over the surface of your skin. The solution is made from hyaluronic acid and other skin enhancing ingredients that hydrate and rejuvenate dry and aging skin.
Microneedling Post-Treatment:
Immediately after the treatment your skin will feel warm, and may be slightly red. This settles quickly, usually within 24-48 hours. Instructions on how to use your post-procedure at-home products will be provided. This treatment combines in-clinic treatments and at-home prescribed products.

3-6 treatments approximately one month apart will usually be required for optimal results. Maintenance treatments can be used to maintain results after your initial course of treatments. Results may be seen as early as one week after treatment, and are visible at six weeks and can continue to improve for up to 6 months.
Is Collagen Induction Therapy Right for You?
To find out if this treatment is the best fit for your individual skin concern, contact us directly. Dr. Kellet will assess your needs and develop a program built specifically for you.
To schedule your treatment or consultation please call 416-440-2597.
DLK on Avenue
108 Avenue Road
Toronto, Ontario
M5R 2H3
Phone: 416-440-2597
Fax: 416-923-2597
MON: 9:00am - 5:00pm
TUE: 8:30am - 7:00pm
WED: 8:30am - 7:00pm
THU:8:30am - 7:00pm
FRI: 8:30am - 7:00pm
SAT: 9:00am - 5:00pm
SUN: Closed