Radiofrequency (RF) Microneedling in Toronto
DLK on Avenue performs Radiofrequency Microneedling in our Toronto clinic by using a fine needle to create small channels in the skin that triggers collagen production. By introducing radiofrequency waves, we enhance the effects of microneedling to give you optimal results.
What Is Radiofrequency Microneedling (aka RF Microneedling)?
RF Microneedling is a treatment that uses ultrafine needles and radiofrequency waves to rejuvenate skin. The treatment stimulates a natural healing response and encourages collagen and elastin production, improving the appearance of skin.
After your Radiofrequency Microneedling treatment, your skin will grow back smoother and thicker, meaning with this procedure you can target:

Fine lines and wrinkles

Stretch marks

Acne scars and the appearance of large pores

Other scars and hyperpigmentation

Sagging skin and cellulite

Hyperhidrosis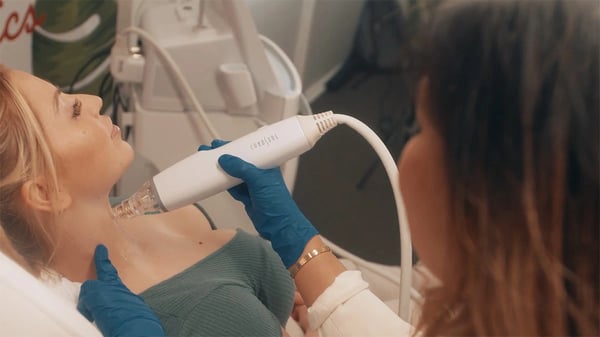 Radiofrequency (RF) Microneedling at a Glance
Why Choose DLK on Avenue for RF Microneedling?
DLK on Avenue's goal is to provide safe and effective Radiofrequency Microneedling treatments in a comfortable medical setting. We also make it our priority to educate our patients on the importance of treatment supervised under the expertise of a board certified specialist. With our expertise in RF Microneedling, you will enjoy a spa-like experience with beautiful results.
Toronto's RF Microneedling Experts
DLK on Avenue's team of medical experts is led by renowned Dermatologists, Dr. Lisa Kellett and Dr. Sonya Abdulla. The expertise, esteem, and talent of our staff is second to none. Learn more about our staff here.
Dr. Kellet approaches cosmetic enhancement and skin care by developing and supervising individualized, specialized treatment regimens for every patient that walks through the DLK On Avenue doors. Her ability to put patients at ease and combine dermatological medicine with the latest technological advances results in the best skin care and injectable techniques.
With her many accomplishments, which include being a Fellow of the Royal College of Physicians of Canada and a graduate of the University of Toronto's prestigious medical school with training in Internal Medicine and specialized Dermatology, Dr. Lisa Kellet is often in frequent demand to report on trends and advancements in skin treatments, and she is a great professional to have by your side during your RF Microneedling treatment.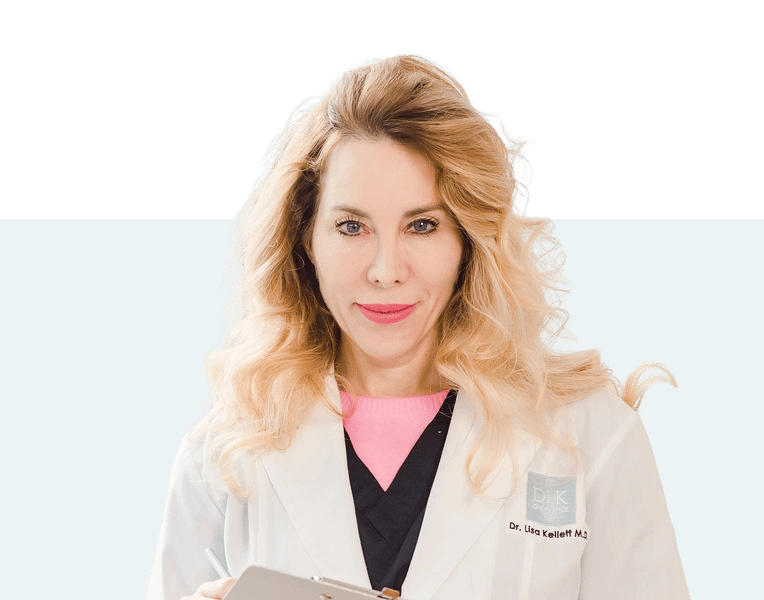 Dr. Abdulla is a leader in the industry of Aesthetic Medicine, being recognized for the natural results she is able to achieve for her patients through holistic yet customized treatment plans that address specific concerns. Her main goal is to maximize your results, minimize your recovery time, and help you look and feel more confident and beautiful.
Dr. Sonya Abdulla is an injectable and laser specialist who frequently teaches her peers about the most coveted techniques of Aesthetic and Laser Medicine. Her medical opinion is extremely sought-after and she is an active consultant to companies like Neutrogena and L'Oreal Canada. Dr. Abdulla's passion for rejuvenation and regenerative medicine, she will be your go-to doctor for injectables, lifts, and contouring treatments like RF Microneedling.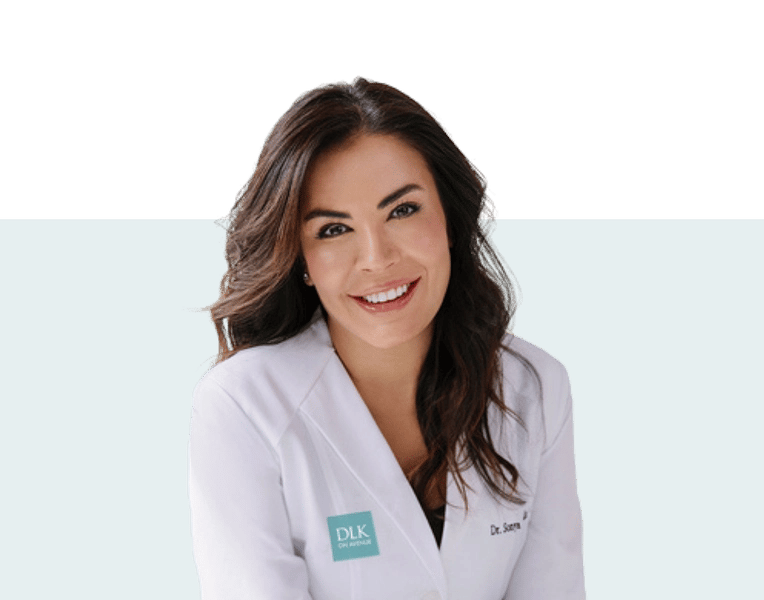 How to Prepare for RF Microneedling
After your consultation, your provider will ask about your medical history, any prescriptions you take, and your expectations. If you have active acne breakouts, you may need to take antibiotics. If you have a history of cold sores, you may need to take antiviral medication prior to your RF Microneedling treatment.
Patients should keep hydrated and shave visible hair the day of the treatment. A medical-grade skincare regimen before the treatment is recommended for optimal results.
During Your RF Microneedling Treatment
DLK on Avenue's RF Microneedling Treatment combines microneedling with focused radiofrequency waves to heat the skin and trigger a natural healing response.
Your doctor will clean your skin and apply a topic anesthetic to the treatment area 1 hour before your procedure. They will then apply the RF Microneedling device to make tiny wounds in the skin that promote collagen production while the tip releases waves of radiofrequency into the wounds to optimize results and effectiveness. Most treatments can be performed in under one hour.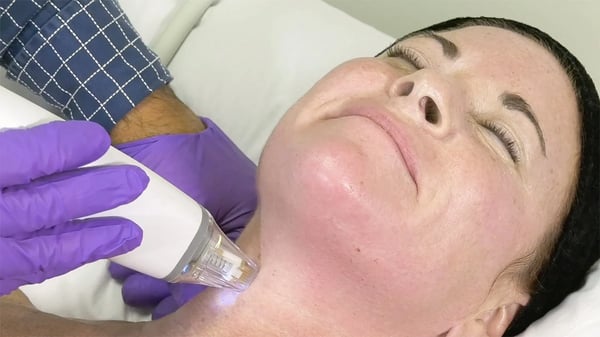 RF Microneedling Aftercare & Recovery
Immediately after treatment your skin will feel warm and may be red. This settles quickly, usually within 24-48 hours. Treatments are well-tolerated, with minimal reported side effects, such as pinpoint bleeding, swelling, redness, or irritation.
The DLK RF Microneedling Treatment combines in-clinic treatments and at-home prescribed products. Instructions on how to use your post-procedure at-home products will be provided.

Results of RF Microneedling
RF Microneedling is effective for many skin conditions, predominantly:
Acne, especially in terms of improving the appearance of small acne scars

Dull complexion, as the treatment rejuvenates the skin and reduces the look of wrinkles. You will also experience improved skin texture and a reduction in enlarged pores

Hyperhidrosis, which is a condition that causes people to sweat excessively in certain areas. RF Microneedling helps by reducing the number and size of your sweat glands.
For optimal results from RF microneedling, we recommend 3-6 treatments, approximately 4-6 weeks apart. Maintenance treatments are recommended after the initial course of treatments.
Results may be seen within several days with gradual improvement over the course of several weeks to several months.

Benefits of RF Microneedling
RF Microneedling offers many benefits, including:
Smooth, firm skin

An even skin tone with decreased hyperpigmentation.

Brighter, youthful-looking skin

Smaller pores and reduced visibility of acne scarring

Improved skin texture
The combination of microneedling and radiofrequency energy combine to produce more effective, better-looking results for your skin.

Side Effects of RF Microneedling
RF Microneedling does present some side effects, including:
Bleeding

Bruising

Redness

Skin tightness

Itching/peeling
However, these side effects typically go away a few days following your treatment. Remember that, to achieve your desired outcome, you may require more than one procedure.

Book Your Consultation at DLK on Avenue
DLK on Avenue's area of expertise is cosmetic dermatology and laser surgery. Please feel free to leave us a confidential voicemail after business hours and we will get back to you within one business day. We look forward to giving you a great RF Microneedling treatment that will leave you with head-turning results!

How is RF microneedling different from other types of microneedling?
Microneedling alone delivers great results after a few treatments, but adding radiofrequency energy reduces the time it'll take you to see results - and the results you see will be even better. With RF Microneedling, the results are produced faster and are more dramatic and long-lived.

Is RF microneedling better than other types of microneedling?
If you are looking for the rejuvenating, youthful results of microneedling in a quicker amount of time, RF microneedling is recommended. With RF microneedling, you can improve the tone, texture, and collagen production in your skin.
How long do results from RF microneedling last?
Your RF microneedling results will typically last 3-5 months, and patients at DLK on Avenue often schedule follow-up treatments twice a year to maintain their beautiful results. Taking good care of your skin will preserve and optimize your results.
How many RF microneedling sessions will I need?
Most patients require 3-4 treatments before they see full desired results, but you may require more treatments if you have more moderate or severe skin concerns like deep wrinkles or extensive acne scarring.
How far apart should RF microneedling sessions be performed?
To be safe, you should book your RF microneedling treatments to be 4-6 weeks apart. If you have moderate to severe concerns, you will likely require up to 6 treatments.
How often should I get RF microneedling maintenance treatments?
If you need to continue building collagen to reduce the look of scarring and fine lines, you will want to schedule maintenance treatments that will occur every 4-6 weeks. The more consistent you are with your RF Microneedling treatments, the better and faster your results will appear.
Is RF Microneedling Right for Me?
To find out if RF microneedling is the best fit for your individual skin concern, contact us directly. Dr. Kellet will assess your needs and develop a program built specifically for you.
To schedule your treatment or consultation please call 416-440-2597
DLK on Avenue
108 Avenue Road
Toronto, Ontario
M5R 2H3
Phone: 416-440-2597
Fax: 416-923-2597
MON: 9:00am - 5:00pm
TUE: 8:30am - 7:00pm
WED: 8:30am - 7:00pm
THU:8:30am - 7:00pm
FRI: 8:30am - 7:00pm
SAT: 9:00am - 5:00pm
SUN: Closed