Chemical Peels & Facial Peels in Toronto
Chemical peels improve and enhance the skin's appearance resulting in smoother, brighter, rejuvenated skin. At DLK on Avenue in midtown Toronto, our chemical peels use a unique blend of naturally occurring acids. Our peels offer an ideal way to improve skin conditions such as acne, acne scars, fine lines, pore size, hyperpigmentation, and sun damage. Peels can be applied on the face, neck, chest, back, and arms.
Chemical peels are a type of skin treatment that involves applying a chemical solution to the skin to improve the appearance of scarring, sun damage, fine lines, age spots, enlarged pores, and acne. Depending on the severity of your concerns, there are levels of peels you can receive, and the skin layers will eventually peel off to reveal youthful, glowing skin.
Dead skin cells, impurities, and dirt are removed from the epidermis, revealing new skin.

Chemical Peels at a Glance:
Why Choose DLK on Avenue for Chemical Peels & Facial Peels?
From cosmetic peels that rejuvenate skin to medical-grade peels for skin conditions such as acne and sun damage, DLK on Avenue is Toronto's source for chemical peels.
Our epidermal peels are carefully formulated to bring out the best in every patient's skin. DLK's state-of-the-art clinic offers a comfortable, luxurious location for your peel treatment. Whether you're visiting us for a facial or body peel, your skin will fall in love with the DLK experience.

Toronto's Experts in Epidermal Peels
Led by Dr. Lisa Kellett and Dr. Sonya Abdulla, DLK on Avenue has the expertise you need for peel treatments. Our team will help you find the right peel for your skin type and skin condition. DLK's experts will also design a personalized aftercare plan to help you achieve your desired results.
If you're unsure whether a peel is right for you, Dr. Kellett will provide a dermatological consultation to help you find the right treatment for your skin. Our experts are also available to answer any questions you might have before, during, or after your treatment.

Dr. Kellett approaches cosmetic enhancement and skin care by developing and supervising individualized, specialized treatment regimens for every patient that walks through the DLK On Avenue doors. Her ability to put patients at ease and combine dermatological medicine with the latest technological advances results in the best skin care and injectable techniques.
With her many accomplishments, which include being a Fellow of the Royal College of Physicians of Canada and a graduate of the University of Toronto's prestigious medical school with training in Internal Medicine and specialized Dermatology, Dr. Lisa Kellett is often in frequent demand to report on trends and advancements in skin treatments. She is a great professional to have by your side during your chemical peel.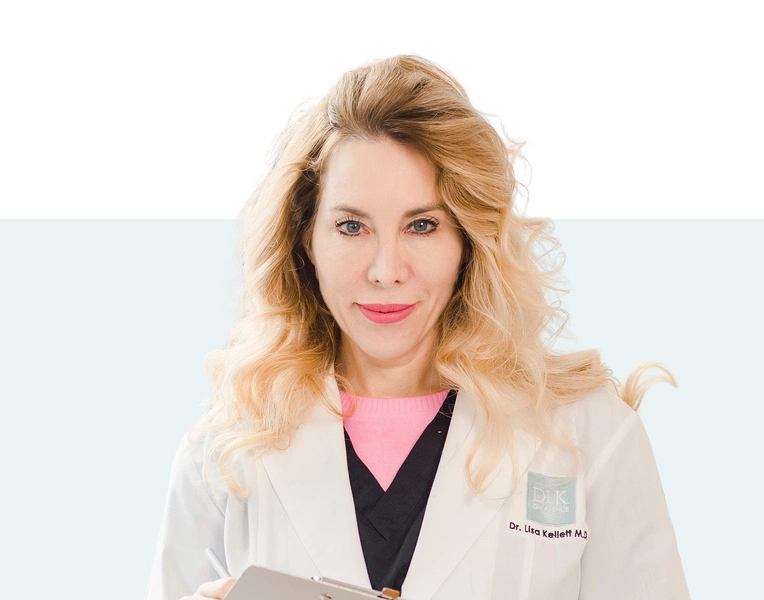 Dr. Abdulla is a leader in the industry of Aesthetic Medicine, being recognized for the natural results she can achieve for her patients through holistic yet customized treatment plans that address specific concerns. Her main goal is to maximize your results, minimize your recovery time, and help you look and feel more confident and beautiful.
Dr. Sonya Abdulla is an injectable and laser specialist who frequently teaches her peers about the most coveted Aesthetic and Laser Medicine techniques. Her medical opinion is extremely sought-after, and she is an active consultant to companies like Neutrogena and L'Oreal Canada. Dr. Abdulla's passion for rejuvenation and regenerative medicine will be your go-to doctor for injectables, lifts, and peels.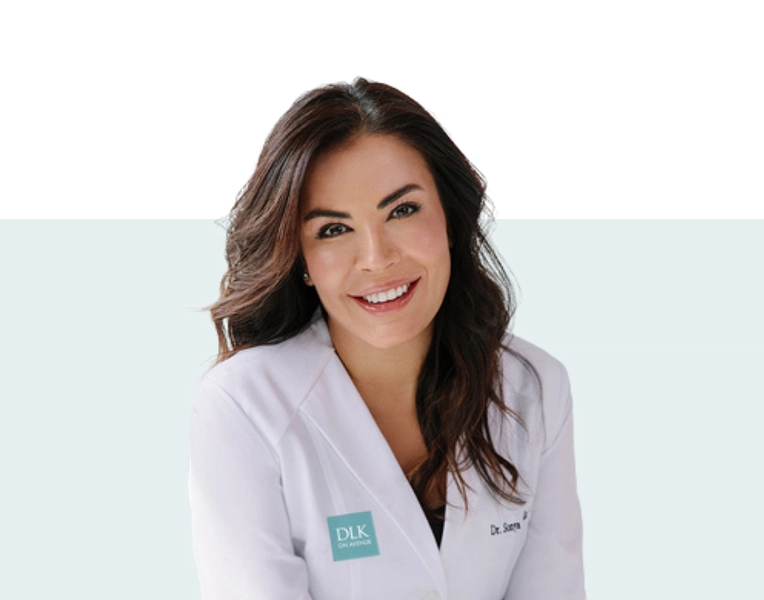 DLK on Avenue Peel Treatments
DLK Acne Peels treat active papules, blackheads and whiteheads. The treatment uses vitamin A and a combination of natural acids. These acids are multifunctional and work to control acne and sebaceous glands. The DLK Acne Peel treats acne caused by many factors, including hormones (pregnancy or menopause), medications, cosmetics and stress.
DLK Brightening Peels improve tone, texture, and clarity and reduce the appearance of pores. This targeted treatment rejuvenates and improves the appearance of sun-damaged skin. DLK's Brightening Peels are a new generation of multi-functional chemical peels that are more effective and heal faster than conventional peels.
How to Prepare for Your Chemical Peel
To prepare for your chemical peel, you should not:
Exfoliate your face for a week beforehand.

Remove hair from the treatment area a week beforehand.

Stand in direct sunlight for prolonged periods.

Wear makeup to your appointment.



It is recommended you arrive with a clean face that is in its natural state for optimal peel results.
During Your Chemical Peel Treatment
During your chemical peel, one of the talented doctors at DLK on Avenue will apply a chemical solution to your face, often containing a form of glycolic or salicylic acid. The treated area(s) will begin to light, and you will feel a mild stinging, similar to a sunburn. A neutralizing solution will then be used to remove the chemical peel, and a cold compress may be applied to the skin.
Chemical Peel Aftercare & Recovery
After a chemical peel, your face might be flaking or peeling for 4-6 days. A sunblock will be applied to the skin before leaving the clinic. You do not need peeling to experience results. Most patients notice an improvement in skin tone, texture and pigment. Instructions on how to use your post-procedure at-home products will be provided. DLK peels combine in-clinic treatments and at-home prescribed products.
Not only are there various depths of peels available, but the epidermal/chemical peels available at DLK on Avenue can treat various areas of the body.
For those who want to put their best face forward, seek an acne peel to treat bacteria, enlarged pores, acne, whiteheads, blackheads, and scarring. You can also opt for a brightening peel to treat wrinkles, uneven skin tone, and texture.
It is typically first seen on our face and neck when we age. Treat sagging and fine lines in the neck area that can make you look older by using the brightening peel, which can also help the appearance of age spots and sun damage.
You may have age spots and sun spots on your chest, along with uneven tone and texture due to a lack of hydration and prolonged sun exposure. Treat these concerns with a brightening peel!
If you're self-conscious about acne or sun spots that are prevalent on your back, worry no more with our acne peel or brightening peel to even out tone and get rid of any bacteria, whiteheads, blackheads, and scarring.
Our brightening peel accurately and effectively treats signs of aging in the hands, such as fine lines, age spots, and uneven tone/texture.
Benefits of Chemical Skin Peels
Chemical skin peels boast a multitude of benefits, including:
Reduced acne and future acne prevention.

Reduced look of pores and oil production.

Minimizing fine lines and wrinkles.

Erasing hyperpigmentation and uneven skin tone or texture.

Reducing the appearance of scars to create a smoothing effect.

They are non-invasive and boast minimal downtime.

Risks and Side Effects of Chemical Peels
Risks associated with chemical peels are often rare, but they include:
Changes in skin tone.

Scabbing or scarring.

Redness and swelling.

Infection.
However, when in the hands of the experts at DLK on Avenue, you can rest assured that there will be no complications during or after your chemical peel. If other clinics have provided you with a poor outcome, we can help fix any damage done and have you looking your best!

Book Your Consultation at DLK on Avenue
DLK on Avenue's area of expertise is cosmetic dermatology and skin treatments. Please leave us a confidential voicemail after business hours, and we will get back to you within one business day. We look forward to giving you a chemical peel that will leave you with youthful, glowing skin!
What ingredients are used in DLK on Avenue peels?
DLK Epidermal Peels are a unique blend of naturally occurring acids formulated to improve skin conditions.
How many sessions do you need for chemical peels?
Most patients require 4-6 chemical peel sessions to achieve their desired results, but some can do less and still see glowing skin.
How often should you get chemical skin peels?
Chemical peels should be spaced 1-2 months apart. The time between sessions allows your skin cells to renew.
How soon will I see results after a chemical peel?
Around two weeks after your chemical peel, you will see the treated areas of your skin develop a new, youthful appearance. Redness can last a bit longer.
How long do results last from chemical peels?
The results of even the lightest chemical peels can last for up to six months. If you receive a deeper peel, your results can last forever. It's up to you to decide which type of peel you receive, and our team will help you decide which option is right for your concerns and their severity.
Are Chemical Peels Right for Me?
Contact us directly to find out if chemical peels are the best fit for your skin concern. Dr. Kellet will assess your needs and develop a program specifically for you.
To schedule your treatment or consultation, please call 416-440-2597.
DLK on Avenue
108 Avenue Road
Toronto, Ontario
M5R 2H3
Phone: 416-440-2597
Fax: 416-923-2597
MON: 9:00am - 5:00pm
TUE: 8:30am - 7:00pm
WED: 8:30am - 7:00pm
THU:8:30am - 7:00pm
FRI: 8:30am - 7:00pm
SAT: 9:00am - 5:00pm
SUN: Closed