What is Thread Lift Treatment?
DLK's Thread Lift Treatment is a dual-action cosmetic device that uses absorbable micro-cones to instantly lift aging skin in the mid-face area while gradually renewing the body's natural collagen for a visibly more youthful appearance.

Under the direction and care of a board-certified Dermatologist, the procedures are performed with precision, safety and efficacy to instantly lift sagging and aging skin, including the cheeks and deeper nasolabial folds. Ideally suited for those looking for a quick, minimally invasive option to restore their mid-face's youthful lift and volume, Thread Lift treatment offers immediate results while gradually restoring volume and repositioning skin by stimulating new collagen production.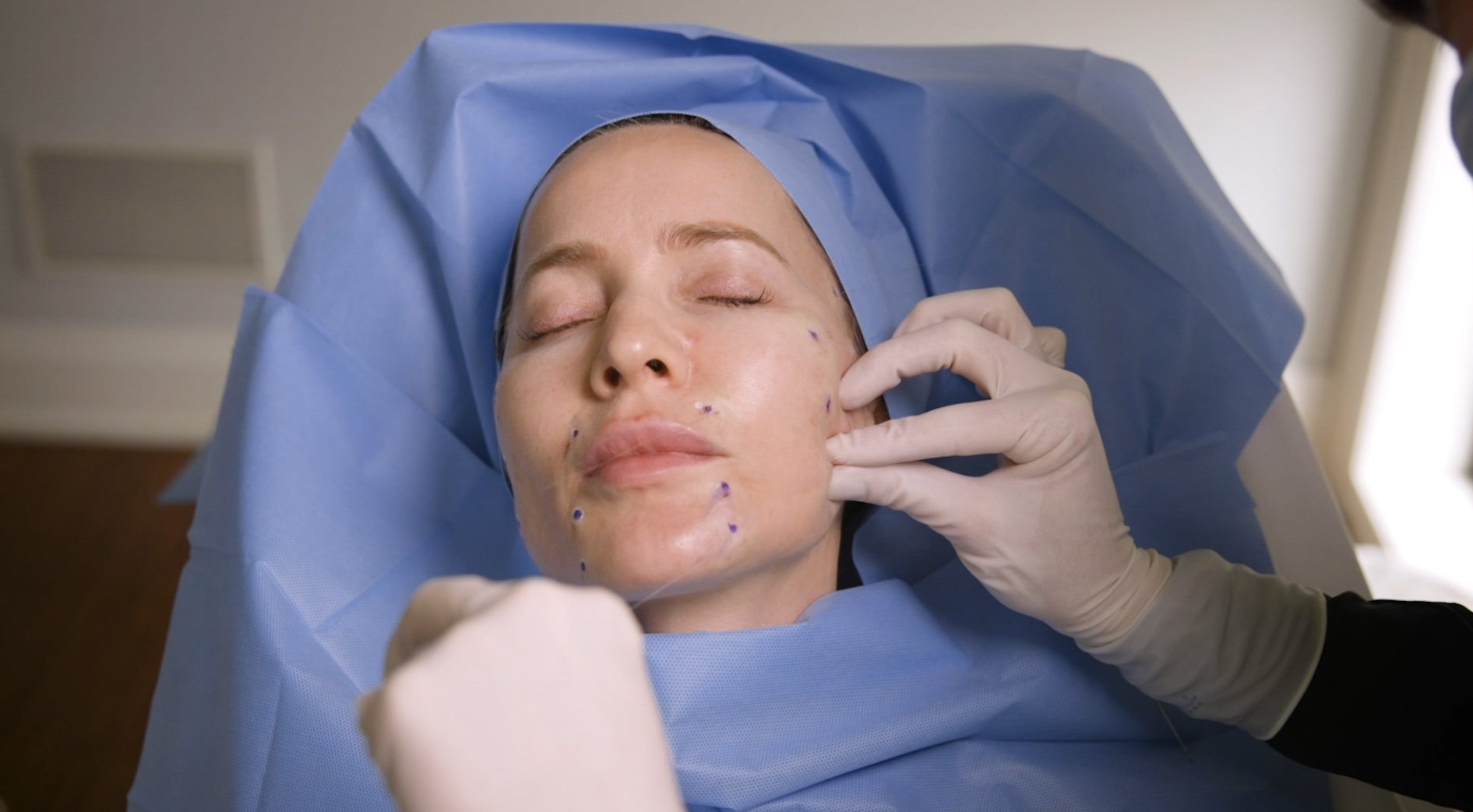 Thread Lift Treatment at a Glance:
The procedure takes approximately one hour and requires minimal downtime for results that last up to two years. Before the treatment begins, marks will be drawn on your face with a marking pen, and a local anesthetic is provided. Sterile, absorbable and single-use threads are then inserted under the skin. Once the threads have been inserted, they are positioned to redefine the target area by lifting the skin.
Following treatment, patients may experience minor pain, swelling, and bruising, all of which usually resolve with most patients returning to normal activities within 2-4 days. Patients will notice an immediate lift in their cheeks and mid-face. As a result of the treatment your body will stimulate its own natural collagen production for a more youthful appearance. You will be given post-treatment instructions to ensure the best possible results and minimal downtime.

Changes in the shape and appearance of the face happen gradually over time. These changes occur as skin strength and elasticity decrease with age, as well as due to the gradual loss of fat, bone, and cartilage. DLK's Non-surgical thread lift treatment is a minimally invasive cosmetic rejuvenation device that provides an instant lift to aging skin in the mid-face area and restores lost facial volume by stimulating collagen production for a more youthful appearance that continues to improve over time and lasts up to 2 years.
Is Thread Lift Treatment Right for You?
To find out if this treatment is the best fit for your individual skin concern, contact us directly. Dr. Kellet will assess your needs and develop a program built specifically for you.
To schedule your treatment or consultation please call 416-440-2597.
DLK on Avenue
108 Avenue Road
Toronto, Ontario
M5R 2H3
Phone: 416-440-2597
Fax: 416-923-2597
MON: 9:00am - 5:00pm
TUE: 8:30am - 7:00pm
WED: 8:30am - 7:00pm
THU:8:30am - 7:00pm
FRI: 8:30am - 7:00pm
SAT: 9:00am - 5:00pm
SUN: Closed