Skinboosters Injection in Toronto
What are Skinboosters Injection Treatments?
DLK's Skinboosters Injectable treatment has been scientifically proven to improve skin smoothness and elasticity. It does so by increasing the hydration of the epidermis and dermis resulting in an improvement in the overall appearance of the skin.
The Skinboosters treatment involves a series of hydrating microinjections of long-lasting, stabilized hyaluronic acid. This soft, gel-like substance absorbs water and increases deep skin hydration in the treated areas with coincident improvement in elasticity and smoothness.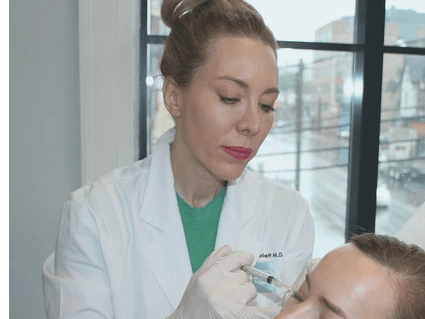 Skinboosters Injection Treatments at a Glance:
DLK Skinboosters Treatment:
DLK's Skinboosters Treatment occurs in a medically-supervised clinic after a proper consultation. During the consultation, your specific skin concerns and goals are addressed and a customized management plan is formulated. This treatment is used to improve the overall skin quality of your face and can also be used on the neck, chest and hands
Skinboosters Post-Treatment:
You will experience some mild redness and swelling around the treatment areas and your skin may feel more sensitive. As with any injectable treatment there is a risk of bruising. This typically subsides after a few days but may last up to two weeks. Avoid applying make-up on your skin immediately after the treatment. After 24 hours, you may apply light make-up to cover any redness or bruising. Avoid excessive sun or extreme cold at least until any initial swelling/ redness resolves.
A typical treatment program is made up of three initial treatment sessions 3-4 weeks apart. The one treatment about every 6 months is recommended for optimal results.
Are Skinboosters Treatments Right for You?
To find out if this treatment is the best fit for your individual skin concern, contact us directly. Dr. Kellet will assess your needs and develop a program built specifically for you.
To schedule your treatment or consultation please call 416-440-2597.
DLK on Avenue
108 Avenue Road
Toronto, Ontario
M5R 2H3
Phone: 416-440-2597
Fax: 416-923-2597
MON: 9:00am - 5:00pm
TUE: 8:30am - 7:00pm
WED: 8:30am - 7:00pm
THU:8:30am - 7:00pm
FRI: 8:30am - 7:00pm
SAT: 9:00am - 5:00pm
SUN: Closed