Non-Ablative Laser Resurfacing in Toronto
What is a Non-Ablative Laser Resurfacing Treatment?
Laser Resurfacing restores skin tone and texture for healthier, brighter skin. This treatment improves damage caused by aging and sun and treats both acne and surgical scars. Patients experience a more comfortable treatment. Laser Resurfacing treats conditions such as hyperpigmentation, discolouration, uneven skin tone, age/sun spots, acne/trauma scars, fine lines and wrinkles, loose or sagging skin and stretch marks.
Non-Ablative Laser Resurfacing Treatment at a Glance:
DLK Laser Resurfacing Treatment:
The laser offers an effective, non-invasive and comfortable treatment, by stimulating the skin to develop collagen without harming any tissue. During the treatment collagen is targeted and regenerates for tighter, more even skin tone. By using a fractional laser, the laser energy is delivered to the skin through microscopic channels, minimizing skin trauma. The device allows for highly customizable treatments, which will be discussed with you at the time of your consultation.
This laser uses state-of-the-art CoolScan which allows for specific treatment areas to be targeted in a controlled manner, that protects the skin tissue from heat accumulation and overheating. This ability is unique to this treatment and the handpiece is equipped with continuous contact cooling, to increase comfort during treatment and protects the epidermis. The innovative laser technology allows for different treatment shapes, sizes and density for optimal treatment results.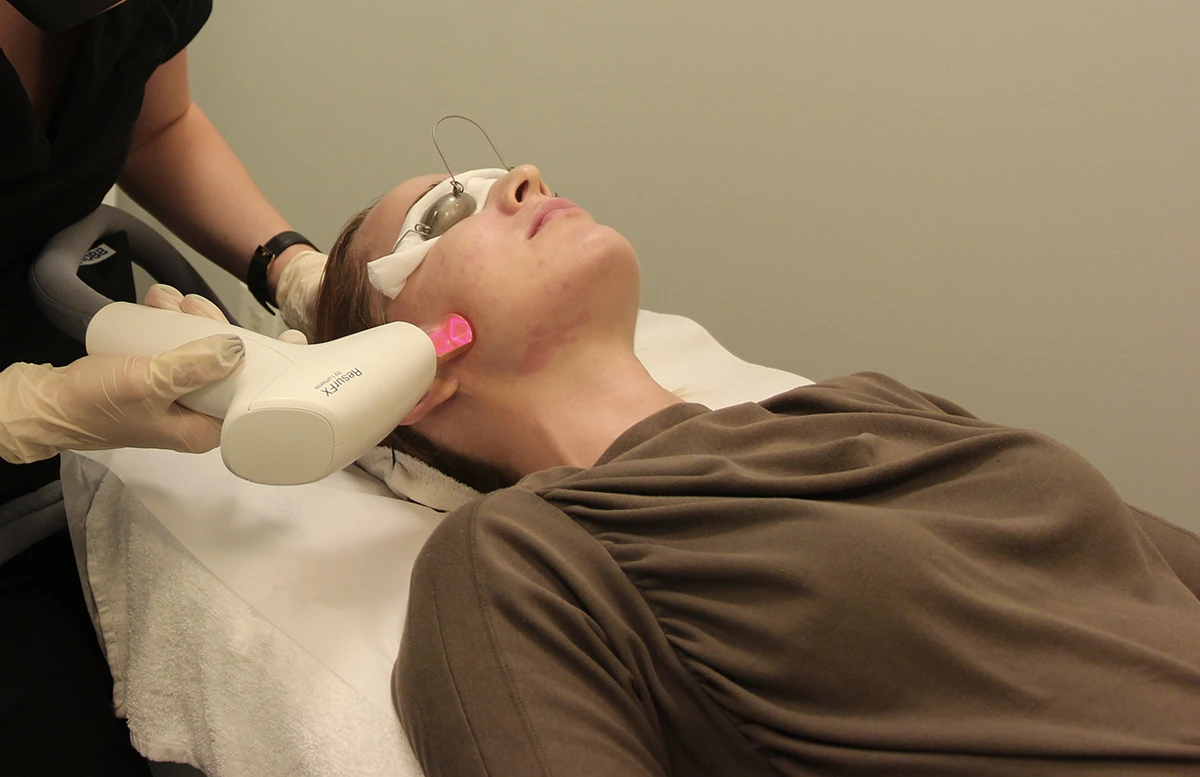 Laser Resurfacing Post-Treatment:
Your skin will be more sensitive to ultra-violet light after the procedure, so you must avoid direct sun contact until the skin is healed. Sun protection to avoid sun damage and premature aging of your skin should be used after treatment.
Clinical studies have shown smoother, firmer, tighter skin after treatment. Skin improvement as a result of the production of new collagen and increased tightening and contouring effects continue over time. Treatments can be used in combination with Intense Pulse Light treatment for optimal results.
Is a Non-Ablative Laser Resurfacing Treatment Right for You?
To find out if this treatment is the best fit for your individual skin concern, contact us directly. Dr. Kellet will assess your needs and develop a program built specifically for you.
To schedule your treatment or consultation please call 416-440-2597.
DLK on Avenue
108 Avenue Road
Toronto, Ontario
M5R 2H3
Phone: 416-440-2597
Fax: 416-923-2597
MON: 9:00am - 5:00pm
TUE: 8:30am - 7:00pm
WED: 8:30am - 7:00pm
THU:8:30am - 7:00pm
FRI: 8:30am - 7:00pm
SAT: 9:00am - 5:00pm
SUN: Closed