Skin Tightening in Toronto
DLK on Avenue performs skin tightening at our Toronto skin care clinic in Yorkville. This non-invasive treatment works by lifting, contouring and remodeling your skin through the use of radio frequency energy (also known as RF energy). The heat from the energy stimulates collagen production, which leaves the skin looking smoother, tighter, and younger. Radio frequency skin tightening can treat various conditions, including loose skin, uneven complexion, and fine lines and wrinkles.
What Is RF Skin Tightening?
Radio frequency skin tightening, also referred to as RF skin tightening, is a non-invasive use of heat technology to stimulate collagen production and treat skin conditions to leave you looking younger and rejuvenated
What Areas Are Commonly Treated with RF Skin Tightening?
Radio frequency skin tightening is effective on all skin types and can be performed on all areas of the body. The most common areas of the body to be treated with RF skin tightening include:
Face

Neck

Abdomen

Arms

Knees

Buttocks

Hips and Waist

Skin Tightening Treatments at a Glance:
Why Choose DLK on Avenue for Skin Tightening?
The DLK on Avenue team understands the importance of rejuvenating your skin while maintaining natural beauty. This is why we offer expertise, experience, and solutions for your areas of concern and skin tightening needs. Our RF skin tightening treatments are formulated to reduce signs of aging on all areas of the body and face, so you can get that confidence boost you need!
Toronto's Skin Tightening Experts
DLK on Avenue are Toronto's leading RF skin tightening specialists, with a team led by Dr. Lisa Kellet and Dr. Sonya Abdulla. Together, we will create a customized plan catered to your specific skin concerns and formulate a skin tightening treatment that leaves you looking and feeling your best.
Dr. Lisa Kellet approaches skin care and cosmetic enhancement with an individualized, specialized approach, creating unique regimens and skin tightening treatment plans for every patient that walks into the DLK on Avenue clinic.
By putting even the most anxious patients at ease, Dr. Kellett combines dermatological medicine with the latest skin-rejuvenating technologies to achieve the best skin tightening techniques and results.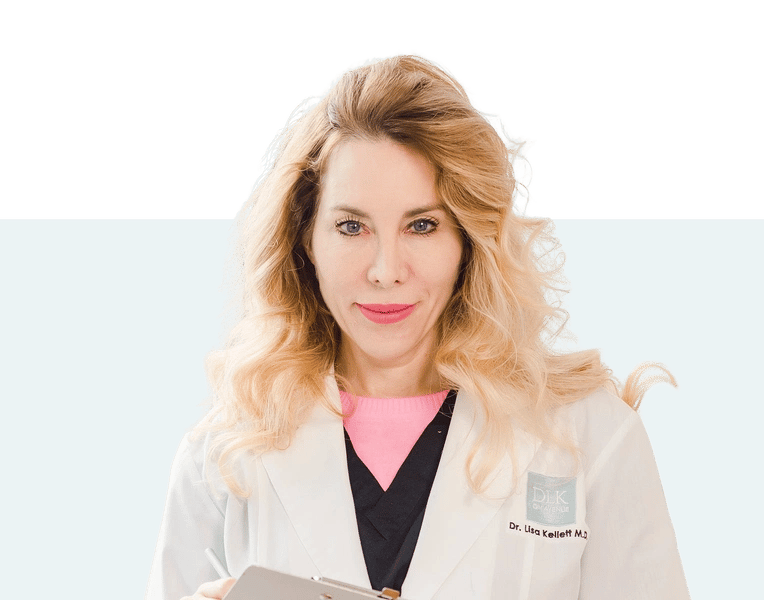 Dr. Sonya Abdulla is a leader in the Aesthetic Medicine sector, recognized for the natural results she provides her patients and her holistic treatment plans that address custom concerns. Her goal is to maximize your results and minimize your recovery time.
Her experience with being a laser specialist and a pioneer for new skincare technologies means you're in good hands during your radio frequency skin tightening treatment. Dr. Abdulla's passion for regenerative and rejuvenating treatments makes her your go-to doctor for RF skin tightening and lifts in Toronto.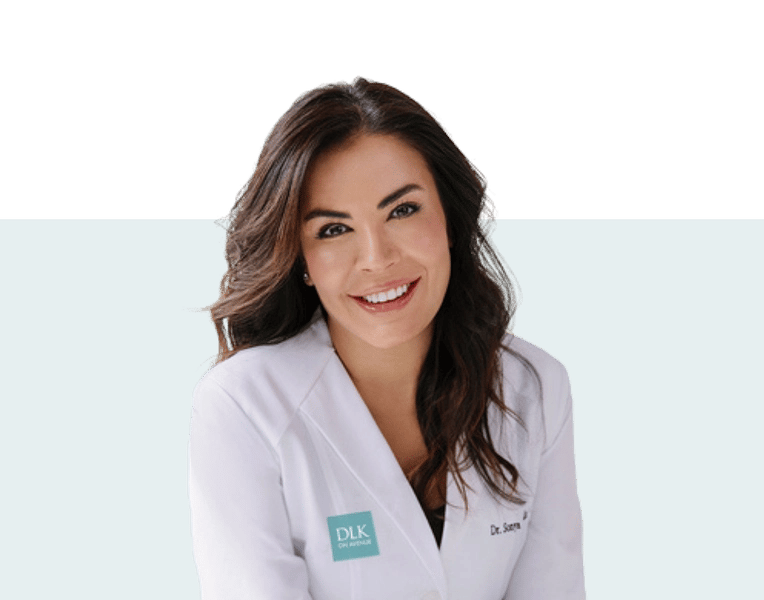 How to Prepare for Your Skin Tightening Treatment?
Firstly, you should not pursue RF skin tightening if you have a pacemaker or have undergone a skin peel or laser treatment less than 2 weeks prior. To prepare for your treatment, keep hydrated on the day of and after the treatment to ensure more comfortable and effective results. Please let the team know if you have a history of cold sores.
Otherwise, all preparation and aftercare instructions will be explained to you in detail during your DLK on Avenue skin tightening consultation.

During Your Skin Tightening Treatment
Show up to your appointment with completely clean skin, especially in the treatment area - no makeup, lotions, or creams. The treatment will last 2-3 hours and requires little to no downtime, so RF skin tightening really just requires patience. If you experience any discomfort, you will receive pain medication taken orally.
During the treatment, an electromagnetic device will generate heat (via radio frequency waves) to stimulate collagen production and new skin cells. Your skin will be firmed and lifted, but the number of treatments you require will vary depending on the severity of your concerns.

Radio Frequency Skin Tightening Aftercare & Recovery
After your skin tightening treatment, you should avoid:
Dehydration, especially the day of your treatment.
Rubbing your skin after the treatment - gentle washing is perfectly fine.
Laser treatments, chemical peels, waxing, and microdermabrasion for at least 4 weeks following your treatment.
Using harsh exfoliants or chemical-heavy serums for the first 7 days.
Sleeping without support - we recommend two pillows to prop your head up and decrease swelling for the first 48 hours following your treatment.
Waiting to schedule your next treatment - you will want to know how long the interval between your treatments will be and make sure you can attend the next one for optimal results.
Uses of Radio Frequency Skin Tightening
Since radio frequency skin tightening can be performed anywhere on the face and body, it has many benefits and uses. Some concerns you can treat by using RF skin tightening include:
Loose/sagging skin that needs to be lifted.

Rough/creping skin that needs to be smoothed.

Signs of aging, such as sun damage, fine lines, and wrinkles.

"Turkey neck," "bingo wings," "mommy tummy," and other concerns that come with aging, pregnancy, and/or weight gain.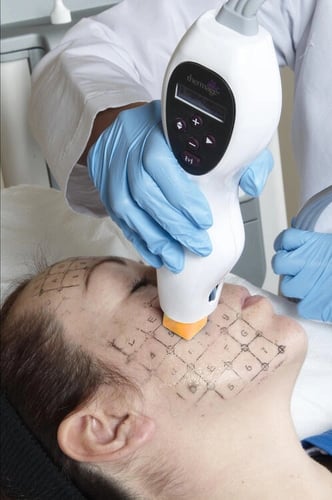 Benefits of Radio Frequency Skin Tightening
Radio frequency skin tightening is an effective anti-aging treatment with many uses and few risks. Some of its main benefits include:
Lifting skin. Say goodbye to sagging or loose skin, especially in common areas of concern like the neck, arms, buttocks, stomach, and face.
A quick refresh. Not only will your RF treatment smooth out signs of aging, but you will also see a slight reduction of fat under the dermis, a reduction in cellulite on the skin, and a more contoured body and/or face.
Improved skin tone. This benefit helps patients with age spots, sun damage, cellulite, stretch marks, and hyperpigmentation.
Increased collagen production. Enjoy your youthful results for months to years with an increase in your collagen and elastin production that helps you keep that youthful glow.
Less pain and downtime. Most patients report no pain at all, but if you have any discomfort we will supply an oral medication. And once you're done with your treatment, there is no downtime required - go enjoy your life and show off your results!
Risks and Side Effects of Radio Frequency Skin Tightening
Due to its lack of invasiveness and downtime, RF skin tightening boasts very few risks and side effects. Although you are in the right hands at DLK on Avenue, some patients at other clinics may experience these adverse reactions:
Slight pain or discomfort, which can be treated with oral pain medications.

Burned or scarred skin due to prolonged sun exposure directly after your treatment.

Swelling and redness in the treatment area, which will fade in a few hours.

Book Your Consultation at DLK on Avenue
Contact us today to find out if our radio frequency skin tightening treatments at DLK on Avenue are right for you. Our esteemed team, led by Dr. Kellett, will assess your needs and develop a program specifically catered to your needs.
Radio frequency skin tightening is a very safe treatment. Its most commonly reported side effects are redness and slight swelling, which disappear on their own after 24 hours.
How Much Does a Skin Tightening Treatment Cost?
To find out how much your radio frequency skin tightening treatment in Toronto will cost, book a consultation with the DLK on Avenue team. Each patient has different needs and concerns, so each treatment plan is unique.
How Much Does a Skin Tightening Treatment Cost?
Laser skin treatments often focus on reducing signs of aging and hyperpigmentation on the skin through resurfacing, while cosmetic radio frequency skin treatments tighten the skin while also reducing the appearance of blemishes with no downtime. Therefore, the main difference is that laser is good for addressing specific skin conditions, while RF is good for lifting and firming skin that has lost its collagen, also addressing surface-level signs of aging.
How Long Do Skin Tightening Results Last?
Your radio frequency skin tightening results will last for up to 2 years, especially if you attend regular maintenance sessions. These results can be prolonged with maintenance sessions or another skin treatment offered by DLK on Avenue.
How Often Should You Tighten Your Skin with Radio Frequency?
Depending on the severity of your concerns and your individualized treatment plan, you may attend maintenance sessions a couple of times a week or once every 14 days. Either way, you can complete your sessions relatively quickly in the span of one month, enjoying your optimal results for years.
Is Skin Tightening Painful?
Radio frequency skin tightening boasts little to no pain during the treatment. If you experience any discomfort, it will be resolved quickly with pain medication that is administered orally.
Can You Combine Radio Frequency Skin Tightening with Another Procedure?
Yes, radio frequency is a great technology used in many skin-improving treatments. Try combining radio frequency skin tightening with an epidermal peel for deep facial concerns, or body contouring treatments like submental fat treatments to remove excess fat and skin in treatment areas with severe concerns.
You can also continue your collagen production journey by pursuing RF microneedling, which provides you with beautifully rejuvenated skin, especially when used in tandem with your skin tightening treatments.
Is Skin Tightening Right for Me?
To find out if skin tightening is the best fit for your individual skin concerns, contact us for a treatment or consultation. Your concerns will be addressed in a professional, comforting manner, and you will feel better than ever!
To schedule your treatment or consultation, please call 416-440-2597.
DLK on Avenue
108 Avenue Road
Toronto, Ontario
M5R 2H3
Phone: 416-440-2597
Fax: 416-923-2597
MON: 9:00am - 5:00pm
TUE: 8:30am - 7:00pm
WED: 8:30am - 7:00pm
THU:8:30am - 7:00pm
FRI: 8:30am - 7:00pm
SAT: 9:00am - 5:00pm
SUN: Closed