Skin Tightening in Toronto
What are Non-Invasive Skin Tightening Treatments for Face or Body?
DLK is proud to offer an innovative new skin tightening platform which represents a leap forward in cosmetic technology. The treatment works by lifting, contouring and remodeling your skin's collagen for smoother, tighter, younger looking skin.
This treatment is highly effective for the face and neck as well as other body treatments that offers early visible improvement and long-term results. Targeted, uniform, bulk heating is delivered safely with as much as two times more power for even better results than ever. The system offers superior results and greater patient comfort by using proprietary technology that uses a vibrating handpiece for more comfortable treatments and improved efficacy.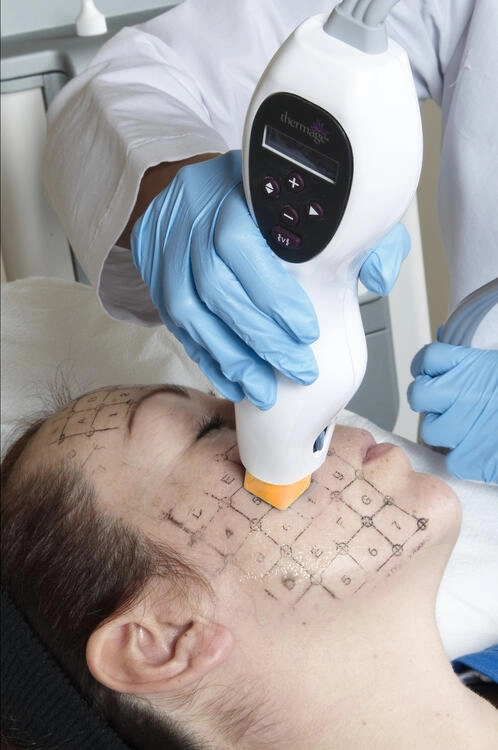 Skin Tightening Treatments at a Glance:
DLK Skin Tightening Treatment:
This non-invasive procedure is available only in the offices of qualified physicians who specialize in cosmetic procedures. The procedure itself is normally done as a single treatment that takes from 20 minutes to two hours depending on the treatment area. What's more, there is no downtime, so you can quickly resume your normal routine. There is no sedation or anesthesia required.

During the treatment, you'll feel a brief, heat sensation each time radiofrequency energy is delivered to the underlayer of your skin. This indicates that your collagen is being stimulated and tightened. After treatment, your skin may be slightly red for a day or two. But most people resume regular activities immediately after treatment, with no downtime or special follow-up care.
Skin Tightening Post-Treatment:
Women 35-60 normally have the best and most predictable results. If your skin is too lax, the results will not be as dramatic. You should feel and see your skin being smoother, firmer, and tighter immediately after your treatment. You may also notice some contouring effects which will begin enhancing the shape of your face. You should continue to see improvements to your skin as a result of the production of new and increased collagen, as well as some additional contouring effects due to continued tightening over time.
Is Skin Tightening Treatment Right for You?
To find out if this treatment is the best fit for your individual skin concern, contact us directly. Dr. Kellet will assess your needs and develop a program built specifically for you.
To schedule your treatment or consultation please call 416-440-2597.
DLK on Avenue
108 Avenue Road
Toronto, Ontario
M5R 2H3
Phone: 416-440-2597
Fax: 416-923-2597
MON: 9:00am - 5:00pm
TUE: 8:30am - 7:00pm
WED: 8:30am - 7:00pm
THU:8:30am - 7:00pm
FRI: 8:30am - 7:00pm
SAT: 9:00am - 5:00pm
SUN: Closed